Luxurious Bathroom Remodels
Imagine the most relaxing bathroom, and then come to us. Primo/J.W. Skutnik is a remodeling firm that specializes in the design and construction of beautiful residential bathrooms. Our services cover all aspects of bathroom design and construction. To get started with a free consultation and estimate, contact us today.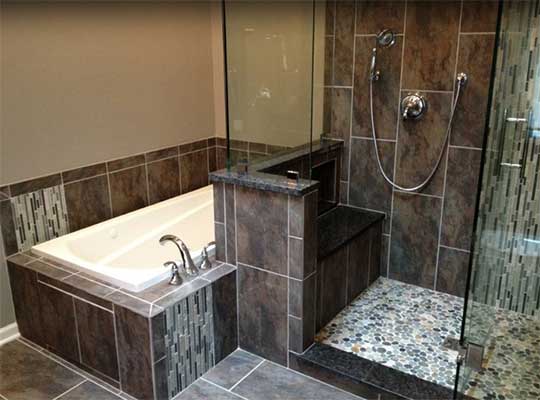 Our Custom Services
Primo/J.W. Skutnik is a full-service residential contractor that specializes in luxury bathroom remodels. We complete high-end projects such as:
Tub/shower conversions & upgrades
Custom vanity installation
New flooring/tile
Light fixtures
Faucets/showerheads
Plumbing
Paint
And more!
We will help you design the perfect remodel to meet your unique needs. Once you approve of the plans, we can get started with the construction. Our company will ensure you experience a smooth, professional construction process the whole way through.
Why Customers Choose Us
Our company slogan is "Innovation, Precision, & Value" because these are the principles upon which we begin every project that we take on. Primo/J.W. Skutnik is not just any remodeling contractor. Our team has decades of experience completing high-end home construction projects. Your dreams come to life here at our firm.
Our Professional Remodeling Process
Using our tried-and-true design/build process for bathroom remodels, we will assess the feasibility of your ideas, determining whether your property can accommodate the room size and design you're envisioning. Once underway with a feasible design, we begin to build, with the least inconvenience to you. Our teams of experienced craftsmen work quickly and accurately, and our project managers are always available to answer your questions and run each project expertly.
Contact Us for a Free Initial Consultation
Our bathroom remodels are designed and built to impress. For luxury you can depend on, get in touch with Primo/J.W. Skutnik for a free consultation. Call us today at (630) 233-1333 or fill out the contact form and we will respond ASAP.